BAJA 1000 2016 LIVE! November 14-20 KING of BAJA
The KING of BAJA 1000 2016, Online event has begun!
BajaRacingNews.com 
---------------------------
ENTER THE BAJA TRIP SWEEPSTAKES!
A journey to the 2016 SCORE Baja 1000 in Baja California, Mexico could be yours. This year Valvoline is constructing two, custom Stock-Full class trucks to compete in the 49th SCORE Baja 1000, scheduled for the November 1

4

-20, ONLINE EVENTS!
Enter to win a chance to cheer on Valvoline's Network A and Formula Drift Drivers, Chris Forsberg and Ryan Tuerck at the race! The winner and their guest will get tickets to the pre-race event, a meet and greet with Chris and Ryan, a 4-night stay in an Ensenada hotel, and a $1,500 Visa gift card for airfare, transportation, food and fun.
CLICK HERE TO ENTER AT TeamValvoline.com
Thursday, October

27

, 2016
19 Days Until RaceDay!
*Pre-Running UPDATES ARE LOCATED HERE.
CLICK HERE
*Don't Swim at Ensenada Beaches During Your Stay!
The El Naranjo sewage treatment plant lacks the capacity to process sewage from 25% of the city of Ensenada, so the para-state agency has opted to discharge the untreated sewage into the ocean.
 
A worker has filed a criminal complaint against the State Commission for Public Services of Ensenada (CESPE) with the Federal Attorney General, as he holds CESPE responsible for acts and omissions which has caused ecological imbalances.

In the complaint filed August 31, file number fed/bc/539/2016, the person reporting said that in the night time he has been instructed to "open the valve" to the sewage pipelines that discharge into the sea from the El Naranjo sewage treatment plant onto Playa El Ciprés, one of the most visited tourist areas.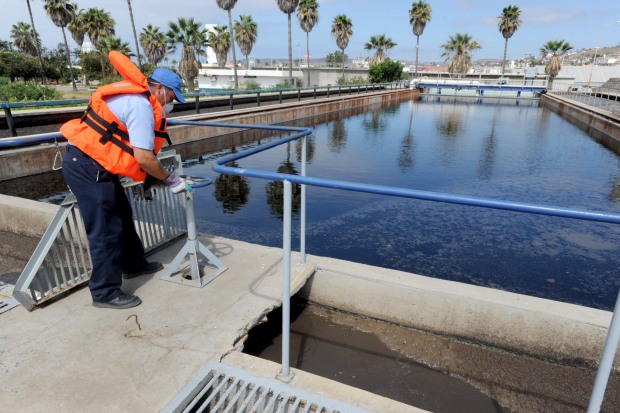 Raw sewage destined for beach at Ensenada, Baja Mexico
*San Quintin Cops Out Of Gas!
The municipal police in San Quintín were without fuel for patrols in more than 55 colonias in the district, which left residents without police service. Municipal police vehicles as well as public service vehicles were affected by the lack of fuel, which caused a delay in patrols as well as garbage collection.
Mexico is a failed state. Most of its people live or want to live, elsewhere. They have no money for police car gas.

So, if your'e a racer and get in a tangle in San Quentin, just run. Haul ass. The po-lice have no gas, to catch your, you know what!
And Roger Norman the Billionaire is taking the money? Sure, it's just us...we suppose this will all come to light after the NEXT local race

death...
Unofficial sources indicated that the most affected were the municipal police, as for a part of Sunday and early Monday the few vehicles they had were parked and unable to provide security.
*Time Change Occurs Over North America (Fall back) in two weeks, on November 6 at 2AM! Some of the best pre-running occurs during these two weeks.
*Pre-Running UPDATES ARE LOCATED HERE.
CLICK HERE
*BajaRacingNews.com
takes you on a Baja 1000 Pre-Run this weekend! 
Stay Tuned>>>
*RED BULL RUNS OUT OF TALENT!
CLICK HERE to get the FALSE history of the Baja 1000. HONDA DID NOT SOLICIT THE EKINS BROTHERS TO RUN THE BAJA - or to start a new event. The Ekins brothers came up with the 'gem' of an idea, THEMSELVES. Red Bull, didn't do their homework, AGAIN!
Red Bull proves their main stream media is retarded. Spends millions to hype fake race course. Not the race course for this years event! CLICK HERE to get the sick truth on

a waste of good talent.

 
*Roger Norman has already blown off this race! 
Roger will race this years Baja 1000. Why? Because he has sold the sanction. Rogers own words, "We put together a family race team for this years 'SCORE event'. This will be a huge bucket lister for the whole family. My brother is the Driver of Record and our brother in laws will be driving as well. We are really looking forward to a great family photo at the finish line. I will be c

o-driving 40 miles of the race with my dad at the wheel."
*RACERS BULLETIN! 
ROGER NORMAN THROWS OUT !FAILED! SPOT TRACKING SYSTEM TO EMPLOY "NEW" SYSTEM FOR BAJA 1000 2016 CLICK HERE FOR THE 2014 TRACKING SYSTEM REVIEW-OFF-ROAD LIVE ! (Oct 20)
---------------------------------------------
KING of BAJA 2016 LIVE! ONLINE COVERAGE
Follow your favorite racers & drivers as they conquer the grueling race course during the 201

6

BAJA 1000. Watch as the crazy fans risk their skins along the race course, in Mexico. Hear the roar of the mighty engines, you can catch the passion of off-road racing!
Your experience will feature a live tracking page that will show the nearest location of all vehicles equipped with somewhat-sophisticated tracking systems
We even venture to Las Vegas & SEMA to get YOU the entire BAJA 1000 story!
The unique and exclusive mountain of Baja 1000 and Baja racing content will feature an all-inclusive wrap-around LIVE! coverage of the event that will allow users a variety of experiences during the race. The LIVE! Webcast will feature LIVE Event Streaming, Pics and Vids, Team Tracking and Replays as well as live unofficial results. Fanatics and casual users alike will also have access to a photo/video gallery and LIVE Streaming Video from the Start/Finish Line and the SPEED Mex pit locations.
Let's GO TO THE 201

4

BAJA 1000 NOW! JUST CLICK HERE!
THE KING OF BAJA 1000 201

5

LIVE ONLINE
*CLICK HERE PICS - VIDS KING of BAJA 2015 LIVE!
*CLICK HERE RACE RESULTS 2015 "Mexicans are Cheaters!" Roger Norman
*CLICK HERE LIVE! RaceDay CLICKY!
*Remember what happened at last years event? CLICK HERE to REFRESH your racing brain! 
*CLICK HERE R

aceWeek SPECIALS!
*CLICK HERE 2015 FACT SHEET
*Pre-Runs! 2015 Baja 1000 Clicky!
*CLICK HERE 2015 PICS VIDS! 
*OUTRAGEOUS! TO LA PAZ 2014!*
San Vincente 2015 BAJA 1000, another Baja racer runs out of talent and goes into the spectators!
---------------------------
XBAJA TV ANNOUNCES SPECIAL LIVE! COVERAGE SCHEDULED FOR THIS YEARS KING of BAJA 1000 2016!
UPDATED! October

16

, 2016 
Live

R

aceWeek coverage begins 
Monday, November 14, 4PM WEST.
The KING of BAJA 1000 LIVE! Event

has

designed and finalized this year's race course coverage

!
 

Starting and finishing in the heart of Ensenada in front of the historic Riviera del Pacifico Cultural Center, the course travels in a counter-clockwise direction. It includes the approximate 20 mile stretch to Ojos Negros which is used in both directions. Outgoing, the course heads south from Ojos Negros through Santo Tomas and then runs along the picturesque Pacific Ocean for over 100 miles and then back across to the center of Baja California Norte. The approximately 830-mile course covers both sides of the peninsula and includes four checkpoints. The race will have its normal start from Ensenada to Piedras Gordas, then out to highway 3 around Rm 20.7 and will go to Km33 and get back on the dirt. The course will go past Rancho Grijalva to El Mezcal and head to Uruapan using La Lagrima Rd, a different road than in past years. From Santo Tomas, the course heads to the coast of the Pacific Ocean and runs down to San Quintin, Nuevo Odisea and then to El Rosario. The course will travel up the well known hill La Vivora, el Arenoso, and will loop around from San Juan de Dios at approximate Rm305 to El Metate Rm 340, Los Martires Rm 363 and go back to San Quintin on the east side of the highway and run north to Col. Vicente Guerrero, Jaramillo and Colonet. The course will travel a new route from Colonet to Llano Colorado and across to Valley de Trinidad. The race course goes along the highway from San Matias to Villa del Sol then crossing the highway at El Chinero, north to Coabuso Junction and then climb up the summit in the opposite direction as previous races from the desert to Nuevo Junction and on to Catarina. From Catarina, it will be back to Ojos Negros and from Ojos Negros back to the finish line. The four checkpoints will be located at Santo Tomas (CP 1–race-mile 87), El Rosario (CP 2–rm249), Vicente Guerrero (CP 3–rm457) and Nuevo Junction (CP 4–rm730). Pre-running will 'officially' open on Saturday, October 22, allowing competitors nearly four weeks of practice time on the official race course.
2016 loop course Highway miles aprox.
Rm 20-28 
Rm 81-88 
Rm 210-219 
Rm 232-249 
Rm 291-296 
Rm 466-477 
Rm 510-518 
Rm 590-593 
Rm 752-754 
Military inspection point located 2km north of Acambaro 
The History of Baja 1000 Race Courses
2017 Peninsula (50th)

'

SCORE' Event
2016 Loop 
2015 Loop 
2014 Peninsula 
2013 Loop 
2012 Peninsula 
2011 Loop 
2010 Peninsula 
2009 Loop 
2008 Loop 
2007 Peninsula (40th) Cabo Finish 
2006 Peninsula 
2005 Loop 
2004 Peninsula 
2003 Loop 
2002 Peninsula 
2001 Loop 
2000 Peninsula 'Baja 2000'  Cabo Finish
1999 Loop 2 Laps Baja 500 
1998 Peninsula 
1997 Loop 
1996 Loop 
1995 Peninsula TJ start 
1994 Loop Mexicali 
1993 Loop Mexicali 
1992 Peninsula 
1991 Loop 
1990 Loop 
1989 Peninsula 
1988 Loop 
1987 Loop 
1986 Peninsula 
1985 Loop 
1984 Loop 
1983 Loop 
1982 Peninsula 
1981 Loop 
1980 Loop 
1979 Peninsula 
1978 Loop 
1977 Loop 
1976 Loop 
1975 Loop 
1974 No Race 
1973 Peninsula 
1972 Peninsula 
1971 Peninsula 
1970 Peninsula 
1969 Peninsula 
1968 Peninsula 
1967 Peninsula 
Start Locations and Sanctions
1967 NORRA (peninsula out of TJ with transit to Ensenada) 
1968 NORRA (peninsula out of Ensenada) 
1969 NORRA (peninsula out of Ensenada) 
1970 NORRA (peninsula out of Ensenada) 
1971 NORRA (peninsula out of Ensenada) 
1972 NORRA (peninsula out of Mexicali) 
1973 BSC (peninsula out of Ensenada) 
1974 no race 
1975 SCORE (loop out of Ensenada) 
1976 SCORE (loop out of Ensenada) 
1977 SCORE (loop out of Ensenada) 
1978 SCORE (Mexicali to Ensenada) 
1979 SCORE (peninsula out of Ensenada)
***INSIDER details*** HERE>>> 
UNO! First of the INSIDER details...the racers are sick of the fake Baja 1000 'qualifying' at SEMA! The stupid dog and pony show

t

hat wastes valuable course work and race prep time.
The amateur
timing, leaving no illusions that any team that shows

in Vegas, has money and time to burn! Not mentioning those teams are also burning up their chances to compete and win in Baja.
Here's the lead-up to last years coverage!
***What do You think the Baja 1000 is?***
Most know it as a desert off-road race. The pure racers.  They

al

so know about the carnage!
T

he colossal event mismanagement by SCORE has caused the racing to change. The racers now know to plan for contingencies on their own. That's the greatest threat to Baja racing and the international

visitors/racers

in the Republic of Mexico.
Last years race concluded with the entire group of Trophy Truck drivers (the country clubbers) talking among themselves, seeking answers, then a boycott. The boycott of the series of races put on by Norman, culminated at the last event, the Rosarito race.
None of the real Trophy Truck owners showed.
The racers are tired of the mismanagement of the sanction, SCORE International.
W

hat's Next In This Years Events?
MORE>>>
Read more »